By Katie Bercegeay
HAF Project Manager
On December 14, 2019, law students at University Sidi Mohamed Ben Abdellah convened for the third of six training-workshops designed to prepare them to deliver pro bono legal aid at a faculty-housed Clinique Juridique, or legal clinic, starting in early 2020.

USMBA Law Professor Professor Lamzaraa facilitated a training on family reconciliation law in Morocco. Students had the opportunity to expand upon their knowledge base of Moroccan law, propose solutions to various scenarios they may encounter in a legal aid setting, and glean from the extensive expertise of Pr. Lamzaraa.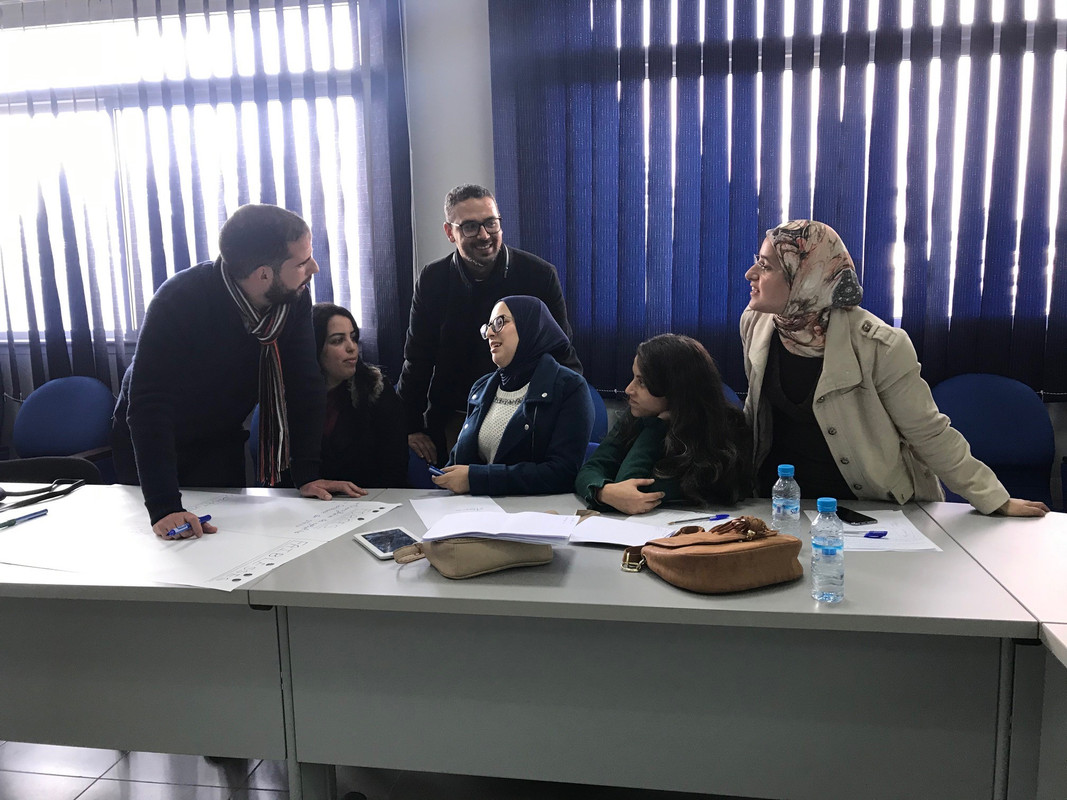 In addition, HAF Project Manager Katie Bercegeay, with assistance from professors El Bakouri and Alaoui, facilitated a SWOT analysis among students. It was the first time students and professors had participated in this type of activity. Facilitators introduced the activity and explained its importance and overall rationale for conducting the activity. The goal of the SWOT analysis was to assess from the law students' point of view the strengths and weaknesses of the clinique juridique as well as opportunities for it to grow and threats to its success. According to The Participatory Development Process and Tools: A Guide for Communities and Facilitators produced by HAF and Peace Corps Morocco, "the SWOT analysis tool combines internal and external information to create a holistic view of the community [the legal clinic]. Internal information is categorized as the community's Strengths and Weaknesses. External information is categorized as Opportunities and Threats that may come to the community [the legal clinic] from outside sources."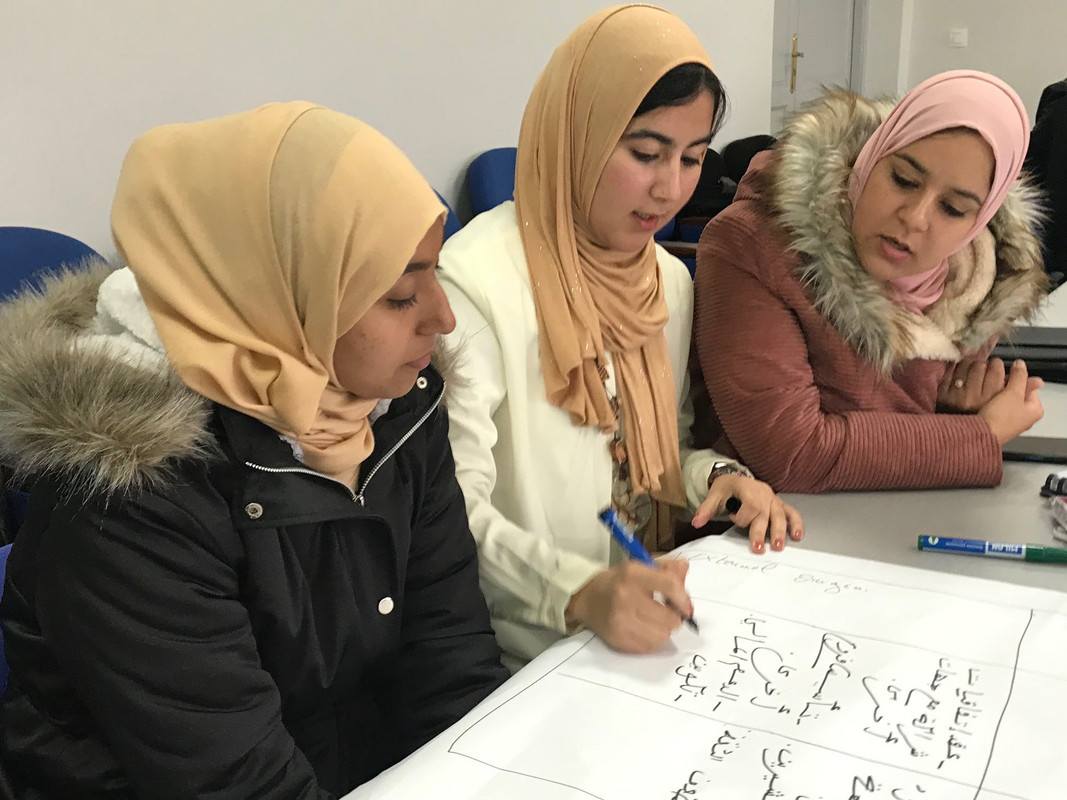 Students were divided into four small groups to brainstorm, discuss, and combine their thoughts on flip chart paper. Afterward, a representative from each group presented their findings. Group presentations were insightful and inspiring. Results, as follows, will allow students to identify, design, and begin to implement their own clinic-based projects during following workshops and throughout the year.

When listed out in bulleted fashion, the list of strengths composed by students is far longer than any other category reported on. Students recognized their collective youth, motivation, team spirit, and desire to give back to their community and humanity at large as an inherent strength. They also describe themselves as competent and disciplined boasting a variety of legal backgrounds and interests, and they are multilingual. They also list having current funding for the legal clinic and the intention to offer free legal advice to disadvantaged communities as strengths of their own.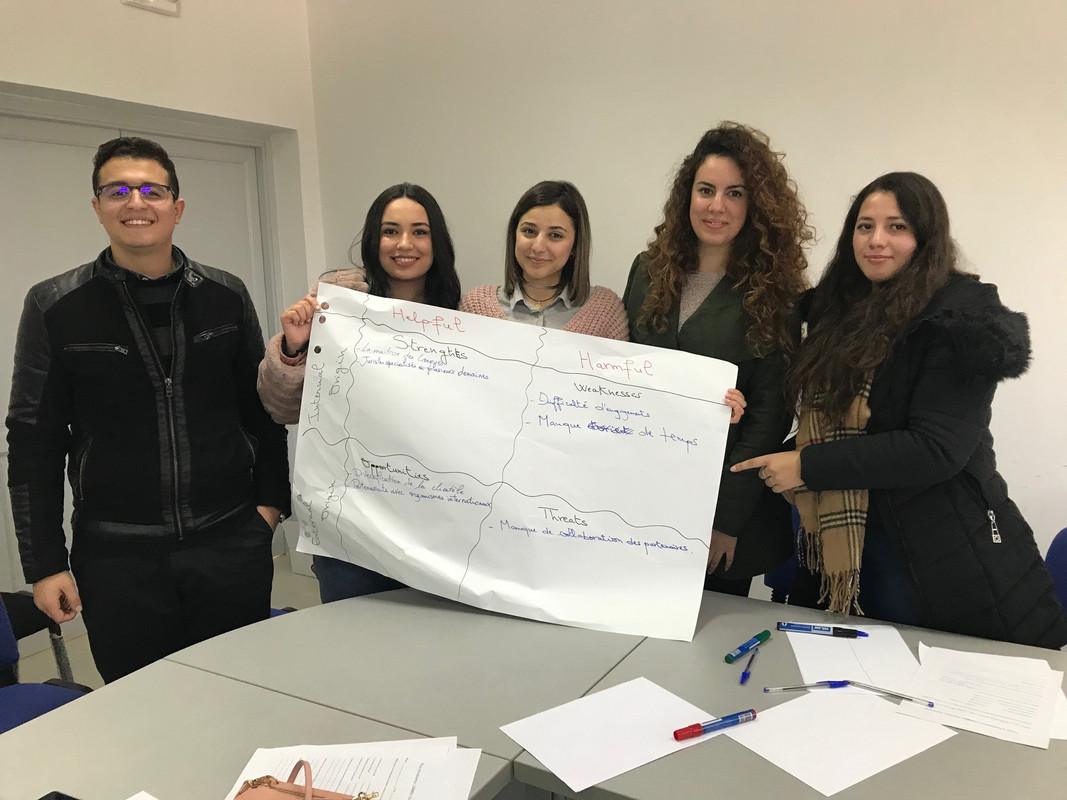 Weaknesses listed by students are few, but they are echoed by nearly each group. Some internal aspects of the clinic that could be harmful, they pointed out, are: current lack of experience among student clinicians, time constraints, current lack of publicity for the clinic, the location of the clinic (at the law faculty), and the lack of existing psychological support for student clinicians who may service clients who have experienced trauma–thereby making themselves vulnerable to secondary trauma.

Students laid out a plethora of opportunities for the clinique juridique to strengthen and expand its operations and programming. For instance, several groups noted the possibility for new partnerships with a variety of possible stakeholders from local associations to relevant Moroccan ministries to large national and international organizations with shared goals. Other opportunities may include the pursuit of additional financial resources, expanding to new branches of law or avenues to deliver legal counsel, and the possibility to organize academic events and/or awareness-raising activities within the local community or at the law faculty on migration and/or family law.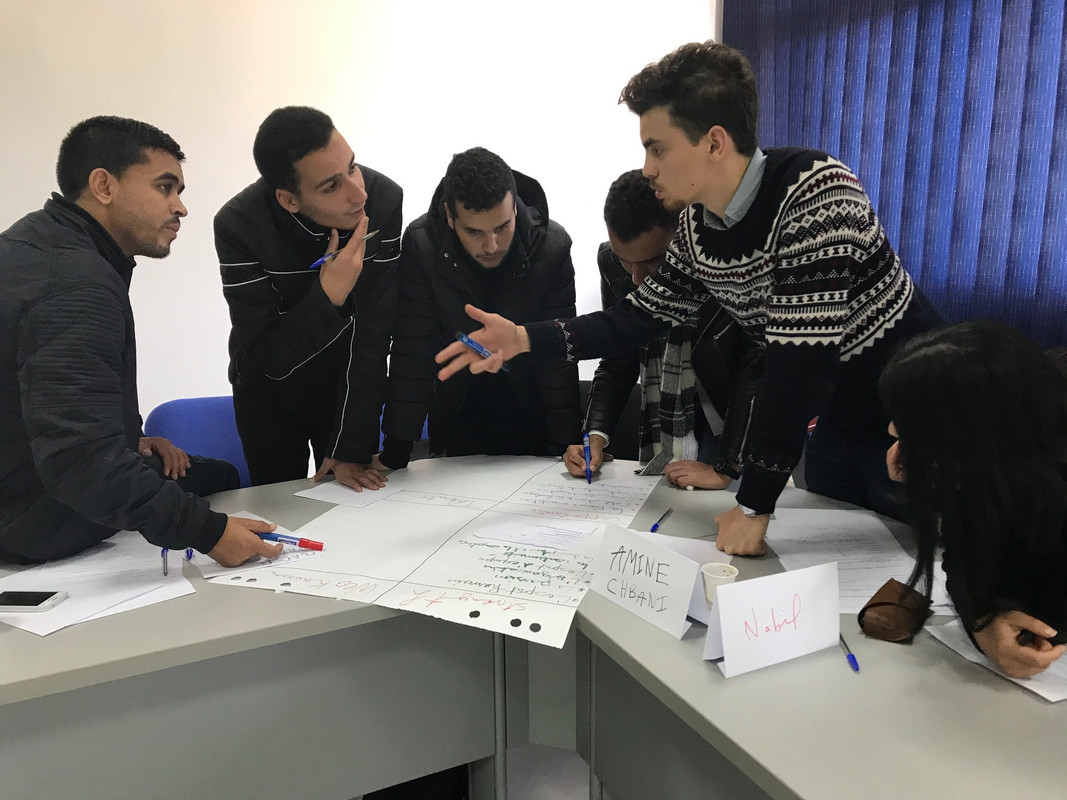 Threats, the students found, encompass: a potential lack of future partnership/s and funding for the purposes of sustainability and growth of the clinique juridique and possible non-compliance with clinic obligations on the part of student clinicians. In the case of handling migrant cases, a possible threat may be the possibility of finding difficulty in working with clients who speak a foriegn language or whose lived experience keeps them from seeing eye-to-eye or trusting Moroccan student clinicians with their information.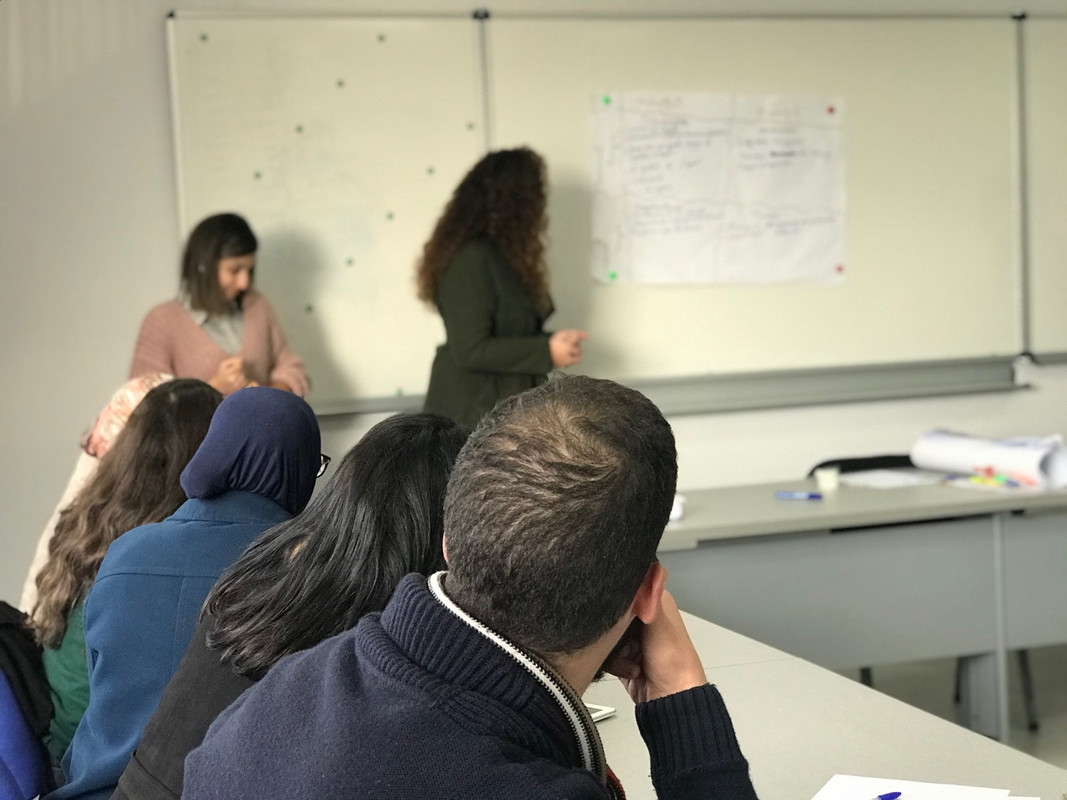 Moving forward, students will be able to use the information gathered to identify priority projects for the clinique juridique. They will brainstorm projects that utilize their strengths to take advantage of opportunities, those that use strengths to overcome or minimize threats, projects that overcome weaknesses to pursue opportunities, and projects that attempt to address both weaknesses and threats. Of course, they will be encouraged to focus primarily on projects that utilize their many notable strengths.[1]
Click here to check out more photos from this project.
[1]The Participatory Development Process and Tools: A Guide for Communities and Facilitators. High Atlas Foundation, Mohammedia, Morocco, 2010.